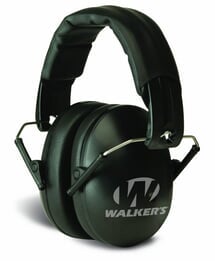 Product Number: mwglowprofileea0-000
Mfg. Part No: GWP-FPM1, GWP-FPM1-PNK, GWP-FPM1-CMO, GWP-FPM1-PKMO, GWP-FPM1-BKO, GWP-FPM1-BKPU, GWP-FPM1-BKTL
Walker's Pro-Low Profile Folding Ear Muffs Features
Ultra low-profile, contoured ear cups
Ultra lightweight ear muff
Padded, rugged headband
Super soft PVC padded ear pads
Compact folding design
NRR 22
Walker's Pro-Low Profile Folding Ear Muffs Details



Walker's Pro-Low Profile Folding Ear Muffs are designed to provide very good protection from sound and a comfortable, low-profile fit all in one easy-to-transport fold-up ear muff. Walker's Pro-Low low-profile ear muffs have ergonomically contoured ear cups that maximize comfort, and a thickly padded headband to ensure a smooth fit at all contact points. Their lightweight design makes these Walker's ear muffs a great choice for all-day wear.

With NRR 22 hearing protection, Pro-Low Profile Ear Muffs are ideal for moderately noisy environments and applications.

Walker's Pro-Low Profile ear muffs fold up, which makes them very easy to store when not in use. These ear muffs are also easy to transport, fitting in snugly and securely with your other gear. For even better portability and storage, add a Got Ears?® Ear Muff Storage Bag and keep your high quality Walker's ear muffs clean and in good condition.


---
See Also
---