TV Listening Headphones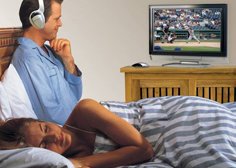 Television listening systems offer great relief for families in which one person needs the TV turned up very loud so they can understand the dialog. With a TV Listener system, a small infrared transmitter sends the audio portion of the TV show to a wireless headset. The headset has a volume adjustment that lets the wearer boost the sound as needed, so they can clearly hear the dialog from the TV. If you or someone you know struggles with the volume adjustment problem while watching television, a TV Listener system is the perfect solution.

For night-time TV watching, TellyPhones Wireless TV Headphones are a great way to watch (and hear!) all your favorite late-night shows without disturbing your partner.


---
TellyPhones™ Wireless TV Headphones (*FREE Shipping)

TellyPhones let you watch TV while your partner sleeps on, undisturbed. Now you can watch and listen to your favorite late-night shows guilt-free with these comfortable, light-weight headphones. Comfortable, wireless, lightweight, and rechargeable for 13 hours of uninterrupted listening.