Reusable Metal Detectable Ear Plugs by the Pair (1-50 Pairs)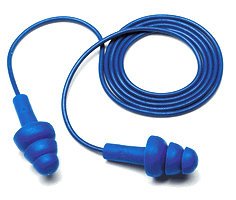 Reusable Metal Detectable Ear Plugs are all designed to suit food industry workers, with non-food color blue feature prominently in either the ear plugs themselves, the ear plug cords, or both. These metal detectable plugs are designed for easy scanning and compliance with food industry regulations.
Reusable metal detectable ear plugs are a bit more expensive than their foam metal detectable counterparts, but as opposed to those single-use foam plugs, these reusable metal detectable plugs may be used several times - standing up to weeks of daily usage - before needing to be replaced. Most of these reusable metal detectable ear plugs may be easily washed with simple warm water and gentle soap to keep them clean and hygienic between uses, greatly increasing the useful lifespan of the ear plugs and significantly reducing waste from discarded plugs and packaging.
---
Shop Reusable Metal Detectable Ear Plugs:
Metal Detectable Ear Plugs by the Pair | Metal Detectable Ear Plugs in Full Boxes | Metal Detectable Ear Plugs in Full Cases
---
Elvex Quattro EP-416 Fully Metal Detectable Reusable Ear Plugs Corded (NRR 27, SNR 34)
(NRR 27, SNR34) Elvex EP-416 Quattro ear plugs are fully metal detectable, and standard blue for sight detectability. The tapered four flange design provides a great fit for most people, and the NRR 27/SNR 34 rating provides protection for environments up to 112 dB. Even with all these great features, Elvex Quattro EP-416 is value priced.


1-9
$1.69
10+
$1.35
Save 20%