Howard Leight Leightsource Ear Plug Dispensers and Refill Packs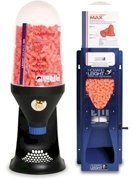 Choose the Economical Leightsource-400 or the Industrial Duty Metal Leightsource-500.

With no waste and no mess, these Howard Leight Leight Source Dispensers dispense earplugs right into your hand. Save time and space, and create less waste with earplug dispensers. For big and small operations, dispensers offer an economical, hygienic, and user-friendly source for hearing protection.

These dispensers are designed to work with Howard Leight uncorded disposable foam ear plugs including Max, MaxLite, Laser Lite, MultiMax, and Matrix earplugs. Simply restock the dispensers with the earplugs of your choice.

We also offer the new HL400 dispensers from Howard Leight.



---
Dispensers and available refill packages of plugs can be ordered below.
---
Leight Source 400 Earplug Dispenser

Recommended for use with Max, Max Lite, Laser Lite, Multi Max, and Matrix disposable foam plug refills.



LeightSource 500 Industrial Duty Metal Earplug Dispenser

Howard Leight, LeightSource 500 Industrial Duty Metal Earplug Dispenser is recommended for use with most cordless Howard Leight ear plugs. The LeightSource 500 provides a highly visible, user-friendly, permanent hearing protection center.



Howard Leight by Honeywell Matrix Composite Foam Ear Plugs (NRR 27-29) (Dispenser Refill Bag of 200 Pairs)

(NRR 23/27/29) Newest design made of a composite material reduces the need to roll the plugs. Here is a foam plug you can just push right in. Available in two lengths giving 27 or 29 NRR protection. Refill for the Leight Source 400 Ear Plug Dispenser. Bag of 200 Pairs



Howard Leight by Honeywell Matrix Composite Foam Ear Plugs (NRR 27-29) (Dispenser Refill Box of 500 Pairs)

(NRR 23/27/29) Newest design made of a composite material reduces the need to roll the plugs. Here is a foam plug you can just push right in. Available in two lengths giving 27 or 29 NRR protection. Refill for the Leight Source 500 Ear Plug Dispenser. Box of 500 Pairs



Howard Leight by Honeywell LPF-LS4 MaxLite Ear Plugs Refill Pack for LS400 Dispenser (Bag 200 Pairs)

(NRR 30) Good NRR rating and super soft in a small to average size makes Howard Leight by Honeywell MaxLite UF Foam Ear Plugs a great option for smaller folks. Refill for the Leight Source 400 Ear Plug Dispenser. Bag of 200 Pairs



Howard Leight by Honeywell MaxLite Ear Plugs Refill Pack For LS500 Dispenser (Box of 500 Pairs)

(NRR 30) Good NRR rating and super soft in a small to average size makes Howard Leight by Honeywell MaxLite UF Foam Ear Plugs a great option for smaller folks. Refill for the Leight Source 500 Ear Plug Dispenser. Box of 500 Pairs



Howard Leight by Honeywell LL-LS4 LaserLite UF Foam Ear Plugs Dispenser Refill (NRR 32) (Bag of 200 Unwrapped Pairs)

(NRR 32) LaserLite UF Foam ear plugs feature snappy colors, an average to large fit and excellent NRR 32 rating making these a good all-around choice. Refill for the Leight Source 400 Ear Plug Dispenser. Bag of 200 Pairs.



Howard Leight by Honeywell LL-1-D LaserLite UF Foam Ear Plugs Dispenser Refill (NRR 32) (Box of 500 Unwrapped Pairs)

(NRR 32) LaserLite UF Foam ear plugs feature snappy colors, an average to large fit and excellent NRR 32 rating making these a good all-around choice. Refill for the Leight Source 500 Ear Plug Dispenser. Box of 500 Unwrapped Pairs.



Howard Leight by Honeywell Max UF Foam Ear Plugs Dispenser Refill (NRR 33) (Box of 500 Unwrapped Pairs)

(NRR 33) A high NRR, average to large size fit and the comfort of UF Foam make Max a favorite industrial plug for high noise environments. Refill for the Leight Source 500 Ear Plug Dispenser. Box of 500 Unwrapped Pairs



Howard Leight by Honeywell Multi-Max UF Foam Ear Plugs Dispenser Refill (NRR 31) (Bag of 200 Unwrapped Pairs)

(NRR 31) Multi Max offers flexibility, protection and economy in hearing protection with its two-sizes-in-one design, improving individual fit while simplifying inventory. Refill for the Leight Source 400 Ear Plug Dispenser. Bag of 200 Unwrapped Pairs